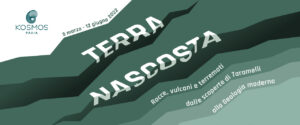 One hundred years after the death of Torquato Taramelli, professor of Geology at the University of Pavia, author of the first Italian seismic map and the Geological Map of Italy, Kosmos presents a temporary exhibition with a focus on hands on experience aimed to understand the structure of our planet. Visitor will discover the geological processes that have a strong impact on our society: earthquakes, volcanic eruptions, hydrogeological instability.
from 5 March to 12 June 2022
Available at Kosmos, Piazza Botta 9 Pavia.
Opening times: the exhibition will be open during the same times of the Museum from Tuesday to Sunday 10am-6pm (last admission 5.30pm)
Tickets: Full € 4.00; Free: children 0-5 years; UNIPV students; disabled and a companion; tour guides, tour leaders, licensed tour interpreters; accompanying teachers of school groups; teachers during natural history teaching activities; journalists
The language of the exhibition is Italian