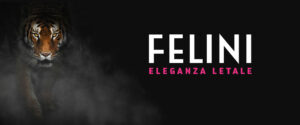 Kosmos, the Natural History Museum of the University of Pavia, presents a new exhibition, "Felini. Lethal Elegance" an exhibition that proposes the discovery of the world of felines, rare and magnificent animals on the edge of extinction.
Lions, tigers, panthers and wild cats have always represented for humanity a symbol of beauty, strength, courage, and sensual elegance. The felines, due to their peculiarities, are used in the field of advertising and the most refined fashion. However, almost all species in the world are directly or indirectly threatened by man.
On display are 30 taxidermies, life-size models and skulls that allow the visitor to learn about the extraordinary anatomical characteristics of these carnivores. Along the way you will be able to appreciate, among others, the clouded leopard of Vietnam, the snow leopard of the Himalayas, the cheetah, the marbled cat of China, the Siberian tiger and the lion. Through the panels that accompany the specimens, it will be possible to relive stories of felines returned to freedom and to get to know some zoologists who have changed the fate of many animals.
The exhibition is curated by Naturaliter from Pisa.
Scientific curator for research, texts and iconography is Giovanni Bellani.
When:  25th February 2023 – 10th September 2023
Where: Kosmos – Natural History Museum, University of Pavia, Piazza Botta 9, Pavia.
Hours: Tuesday to Sunday 10 am-6pm (last admission 5.30pm).
Tickets: access to the exhibition included in the entrance ticket to the Museum. Reduced admission only for exhibitions: 4 euros; free: children 0-5 years; UNIPV students; disabled / disabled and a companion; tourist guides, tour leaders, licensed tourist interpreters; accompanying teachers of school groups; teachers in the field of teaching activities related to natural sciences; journalists.
The language of the exhibition is both Italian and English.
---