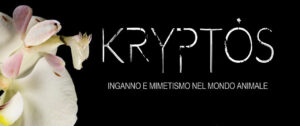 In nature, nothing is as it seems and deception is the only rule. Mimicry does not mean just hiding but pretending to be something different; the animals show shapes and colors of what surrounds them or they scare the enemies with prominent colors. Many of them pretend to be what they really are not: a leaf, a flower, a sprig, a tuft of moss or adopt the aspect of dangerous species even if they are completely devoid of offensive means.
The Kryptòs exhibition. Deception and mimicry in the animal world tells this fascinating world with a selection of very special live animals: frogs, leaf insects, mantises and spiders with surprising liveries, presented in furnished terrariums that reproduce the natural environment of the species hosted (all born in captivity and not dangerous).
A first section examines the adaptations that animals have developed to disappear in the environments where they live while the second focuses on the aposematic colors and the most refined forms of deception.
The last section illustrates the different ways in which animals perceive the colors of the world around them, an aid to understand their curious behaviour.
The entire exhibition is accompanied by large-format photographs and video projections by Emanuele Biggi and Francesco Tomasinelli, biologists, professional photographers and authors of scientific exhibitions.
The KRYPTÒS exhibition is curated by Emanuele Biggi and Francesco Tomasinelli.
When: 8th October 2022 – 5th February 2023.
Where: Kosmos – Natural History Museum, University of Pavia, Piazza Botta 9, Pavia.
Hours: Tuesday to Sunday 10 am-6pm (last admission 5.30pm).
Tickets: access to the exhibition included in the entrance ticket to the Museum. Reduced admission only for exhibitions: 4 euros; free: children 0-5 years; UNIPV students; disabled / disabled and a companion; tourist guides, tour leaders, licensed tourist interpreters; accompanying teachers of school groups; teachers in the field of teaching activities related to natural sciences; journalists.
The language of the exhibition is Italian
---