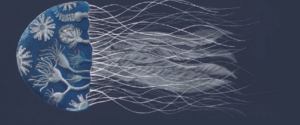 An exhibition dedicated to the fascinating universe of jellyfish, narrated through the award-winning picture book "Il giardino delle meduse", written by Paola Vitale, illustrated by Rossana Bossù and published by Camelozampa.
Surprising creatures that are still mostly unknown, they increased enormously in number throughout the Mediterranean due to the combined effect of climate change and overfishing, jellyfish are important to study because they act as indicators of the environment modifications. The exhibition is designed to guide visitors of all ages on an engaging and unusual journey to discover these fascinating marine animals, which appeared on earth hundreds of millions of years before human beings.
The evocative illustrations are the focus of the itinerary, which spans through large-format color graphics, in which different species of jellyfish have been represented, with sinuous shapes and full of charm. Visitors will be able to learn about the characteristics of each species, from the most venomous to the oldest in the world, which arrived to the present day in the form of fossils. There will be some curiosities related to jellyfish, for example their use in the kitchen, as well as literary and musical references. Kosmos Museum is also showing two original plates from the second half of the nineteenth century used at the time for teaching zoology to the university students. A short video will show the very elegant movement of jellyfish in the sea and, thanks to the help of optical instruments, it will be possible to observe the hydras, tiny freshwater cnidarians that live in clean and well oxygenated waters.
An exhibition that not only aims to be a scientific and cultural study of a zoological taxon, but also a path capable of thrilling and enchanting visitors. The magnificent illustrations signed by Rossana Bossù are an invitation to admire the beauty and charm of these marine animals, discovering details that are difficult to observe at first glance.
from 5 March to 12 June 2022
Available at Kosmos, Piazza Botta 9 Pavia.
Opening times: the exhibition will be open during the same times of the Museum from Tuesday to Sunday 10am-6pm (last admission 5.30pm)
Tickets: Full € 4.00; Free: children 0-5 years; UNIPV students; disabled and a companion; tour guides, tour leaders, licensed tour interpreters; accompanying teachers of school groups; teachers during natural history teaching activities; journalists
The language of the exhibition is Italian